Heavy Haul Trucking
Heavy Haul Trucking an Overview
Heavy haul trucking is the hauling of oversize or overweight freight.  Generally, shipping heavy equipment will require specialized trailers that can haul over dimensional or overweight loads.  Heavy equipment hauling requires an expert to determine the right trailer for the job.
A professional heavy haul provider knows:
The Legal Dimensions
Permit Requirements
Escort Requirements
Equipment Requirements
Heavy haul trucking is not the same as legal flatbed hauling.   A heavy haul move requires a professional in order to ensure a safe and successful delivery.

Legal Dimensions vs Over Dimensional
It is considered to be heavy haul trucking when a shipment exceeds the legal dimensions set by the state in which the load is shipping through.
Length – Overall length requirements vary by state.

Width – A load that exceeds 8'6" wide will require an over-dimensional permit.

Height – The legal overall height of a load through most states is 13'6" high, although some western states are higher.

Weight   A shipment that exceeds 80,000 lbs gross weight will also require overweight permits to travel in each state.
On any of the above requirements, the load being hauled must be non-reducible, meaning a shipment must be hauled int its smallest form.

Permit and Escort Requirements
Heavy haul trucking requires the use of special permits provided by:
State

County

City

and other government municipality you plan to travel.
The requirements vary among government entities and so do the costs.  States will also on certain loads require a pilot vehicle or escort to travel in conjunction with the truck and trailer hauling the permitted load.  The escort is there to provide safe travel for the public, the roads, property, and the load.
Trailer Equipment
Equipment can vary greatly depending on the load and its need.
Flatbed,

Stepdeck or (dropdeck)

Double Drop

Removable Gooseneck (RGN),

Stretch or Extendable

Multiple Axles (multi-axle)
This is just a list of some of the trailer types out there, there are many other specialized trailers.
Trucking Safety
We provide professional quotes, equipment, drivers, and a team of experts to insure your load is picked up and delivered safely and within budget.  We work with the states to obtain the necessary permits and escorts to allow for legal travel.

You might also try reviewing The Trucker's Report, which has a professional forum dedicated to heavy haul trucking.
---
Call For Free Quote Today!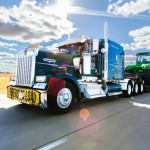 Here at
Heavy Haul Trucking
, we know about oversize, heavy and specialty loads and how to get your load exactly where you need it, safely and on time.
Request a free quote to see how competitive our prices are!
Just call
(417) 312-2920
or visit our
Free Freight Quote
page for more details.