Heavy Haul Trucking Quote
Free, Accurate, Competitive
We strive to quote our loads as fast as possible, but depending on the size and complexity of the quote it can take longer. Use the "Tell us more" field below for any of the following information.
If you have a specific trailer type let us know, otherwise, we will determine the best trailer by your dimensions.
Note if you need special accessorials like: tarping, loading ramps, or a specific pickup or delivery times.
A commodity description is often helpful and can help tell us the best trailer type to use.
An * is a required field, we can't quote or provide you the quote without this information.
You can always call us to discuss your shipment as well at 417-312-2920.
Heavy Haul Trucking Quote Form
Instructions
Step 1: Complete the form.
Step 2: Click the submit button.
Step 3: We'll contact you when completed.
---
Call For Free Quote Today!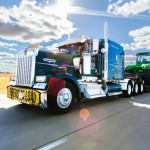 Here at
Heavy Haul Trucking
, we know about oversize, heavy and specialty loads and how to get your load exactly where you need it, safely and on time.
Request a free quote to see how competitive our prices are!
Just call
(417) 312-2920
or visit our
Free Freight Quote
page for more details.